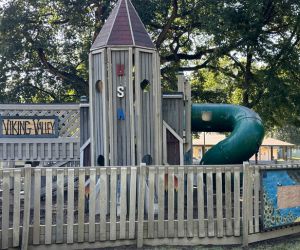 The Viking Valley art project began last year with a goal of replacing the art panels that decorated Viking Valley in Swensson Park. The panels had been installed when the park originally opened, and due to age and weathering, replacement of the panels became a necessity. 
With the help of local artists, donors, and funding from the Kansas Creative Art Commission Industries, the project was able to take off and it's nearly completion. 
The project is progressing well, and the hand painted murals are all completed. The diversity of all the pieces of artwork is unique and makes the project all that more interesting. The artists worked hard at creating pieces of art that uniquely represent parts, ideas, and themes of the local area.
The original pieces of artwork are currently being reproduced. These reproductions will be installed at Viking Valley Playground in Swensson Park in the location of the previous panels. The completion of the project is scheduled for the Fall and will include new panels and plaques.
The following artists contributed their skills and time to this project: Channing Wall, Pat Pender, Noah Flores, Jen Krob, Jenny Davis, Angela Rider, and Cal McNichols.