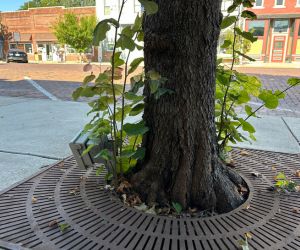 One aspect of the quaint town of Lindsborg is the downtown business district. From the small local shops to the brick streets to the tree lined sidewalks, "visually inviting" is what describes the downtown area.
Shade-giving trees give downtown its beauty. There are some ordinances already in place that specify what is sustainable and provide the best appearance. Unfortunately, over time, this has not been closely followed. Specifically, due to tree species selection, some trees are oversized for downtown. This is causing issues with the grates and electrical boxes, tree limbs affecting the buildings and windows, difficulty in maintaining/trimming, and over time, will impact the sidewalk and below-ground infrastructure.
In response, the Parks Department is completing a tree plan to address some of the issues that are being encountered. City Council and public input will be involved in detailing the plan, as well.
This plan is made to accommodate the following:
Adheres to ordinances;
Protects existing infrastructure;
Protects the appearance and biodiversity of the downtown; and
Addresses the functions of the trees.
Any work downtown would be done after Hyllningsfest.