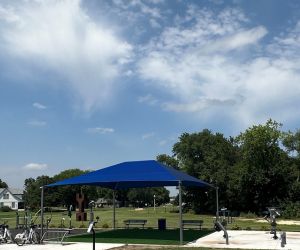 A date has been set for an official dedication for the Fredrickson Family Fitness Park (FFFP), located near the Old Mill at the south trail head parking lot, which opened earlier this year. To cap off a festive Hyllningsfest weekend, the dedication will take place Sunday, Oct. 15, at 1:30 p.m. The Fredrickson family and select project representatives will be in attendance, and the public is welcome to attend to help celebrate the occasion.
FFFP is named after Dr. Duane Fredrickson, beloved Lindsborg family physician, exercise enthusiast, historian, and community volunteer. The project is designed to positively contribute to the overall state of wellness for all users physically, socially, and mentally, and will provide a dedicated space for outdoor fitness and exercise. Residents of all abilities can enjoy a sense of community while improving their strength, agility, and flexibility.
The park provides about 20 different low-impact workout machines and a shaded, turfed area for additional workout space. It also serves as one of three bike docks for the Lindsborg bikeshare program. More event details will be available at lindsborgcity.org and the City's Facebook page as the date draws closer.